---
When Vincent begins his internship in a funeral home prep room, he quickly realizes he is in for more than he bargained. The staff members guide him through embalming, cremation, and restorative art, but are insensitive to his awe and trepidation. After all, they have their own problems: Dannie decides she wants to leave her boyfriend, but contemplates getting pregnant before she goes, Raul struggles with life after divorce, especially when his ex-wife asks the unthinkable of him, Sam is unable to begin a romantic relationship until he can put his family disownment behind him, and Walter is a spiritual leader who learns no good deed goes unpunished. In the back rooms of the mortuary, they help each other face their issues, sorting through bitterness, love, science, and faith. Through working with the dead, they are reminded of what really matters in life.


---
---
Blanca is the story of a young woman who falls suddenly from an elite lifestyle and is forced to live with her cousin, who is one of seven gang members. With the help of her strange new friends, and a would-be Prince Charming, Blanca attempts to claim what is rightfully hers, but happy endings are scarce in East LA.

Coming Soon!

---
Powered by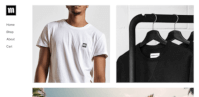 Create your own unique website with customizable templates.